December 30, 2020 at 3:49 pm
#56536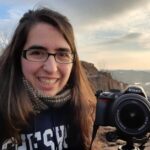 Lydia Bennett
Participant
Hey @ephillips! Really nice shot! I like it for similar reasons to what Caitlin said.
You might find this forum thread helpful, if you haven't read through it before: Principles of Photo Editing. Some good insights were offered there.
I know how it is when you hit a roadblock in editing and you can't quite sort out why you don't like what you've got. Sometimes I'll come back to a photo a couple days later and say, "That's how I edited it?! Let me try that again!" 🙂
Everyone edits a little differently, but I took a couple minutes to play around with your photo to maybe give you some ideas to go off of. I have attached what I came up with, as well as a screenshot which shows the adjustments I made in Lightroom. I also placed a radial filter on the mountains where I raised the shadows and the whites just a little bit higher than the rest of the photo.
I landed on the crop I did because I thought the rock sticking up on the right side of the photo and the tree on the left provided some visual anchors and framing elements that kept the eye in the photo. Cropped this way, my eye tends to flows easily from the rock to the tree, down into the valley, to the mountains, and back through the photo again.
Hope that helps!