January 4, 2021 at 12:23 pm
#56786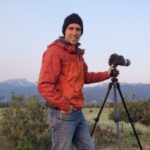 James Staddon
Keymaster
Those are some excellent replies, @creative-click-photography, so let us know if you have any followup questions.
I'm not really much into the equipment research department, but some comments from my personal experience:
* I've been unimpressed with the 5D Mark III (as an upgrade from the 5D Mark II)
* I would recommend the 7D Mark II to ANYONE! It is the best camera I have right now. Only "drawback" is that it isn't full frame. So I use the 5D Mark III for when I need wide angle stuff, and the 7D Mark II for practically everything else. I can not tell you how amazing the 65 point autofocus system is in the 7D Mark II. Somehow, it's just better than the 61 points of the 5D Mark III.
* Eventually, I plan to go mirrorless.
* If you plan to continue with stock or portrait photography, I would recommend you invest in good lighting, and depending on what lenses you have, sharper lenses. It wouldn't hurt to upgrade to a better camera than the 60D since taking the photos will be easier, but lighting and lenses may actually make a bigger difference in how the the end photos look.