January 11, 2021 at 11:08 am
#56950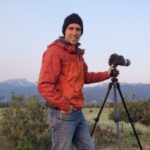 James Staddon
Keymaster
Welcome to the forums, Skylar! I remember going to a local lake to go swimming with my family years ago, when I was younger. 🙂 It was just a little lake. Never been swimming in Lake Michigan though!
That first shot is so fun. 🙂 It tells a great story, his arms outstretched perfectly for a dive. Not sure how much that dive will turn out to be different than a divebomb, but hey, gotta learn sometime! The water droplets frozen in the air behind him is what makes it so great; suggests activity. It would be nice if he was separated off the background; just a matter of positioning higher/lower. Leaving headroom in front of the diver would make it feel more like he's diving into water, instead of bonking his head on the side of the picture. 🙂
I'm a big fan of sunsets. The centered moon at the top of the frame is an interesting choice. I like it because it helps make the sky not feel so empty since there's something intentional to look at up there. If there was something symmetrical in the foreground as well, that would make the photo dynamic. To bad we can't pose ducks like we can people. 🙂 The silhouetted ducks add a nice touch of interest in the foreground though.
Great background blur on the third phot. She looks like she JUST stepped out of the water, and is turning around to jump right back in. That's a story. And the title of your post sets the context. Like the sepia tone edit; a little strong in my opinion. Also, I'd brighten it up a bit (and the other sepia picture as well), so the subject is well exposed. It's ok if the background blows out a bit.