January 14, 2021 at 10:27 am
#57055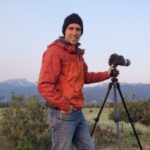 James Staddon
Keymaster
What a fantastic location, @joshua_ong! Reminds me of what you might see up in Banff National Park, Canada, over here in North America.
Yes, you have obvious lines, and they tend to lead the eye, so yes, you technically have "leading lines". However, my opinion is that the lines (the river) are more of the subject than they are lines leading to a subject. If I could see the mountain peaks in the distance that are just cropped off, then I would have something more to look at for where the lines are leading me. I think it would give a much greater sense of "what's behind that hill?" if I could see more of the distant background. I would be wondering what not only was behind the hill, but "where does the river go" in all those miles beyond into the wild yonder.
The attached image would, in my opinion, make a better example of using a subject as a leading line. What one unique element in the scenery do you notice right off? To me, the hawkbill-like peak way off in the distance is one of the main things I notice about the photo. It's an incredibly tiny element in the photo, but because there are distinct lines leading you right to it, it suddenly becomes a secondary point of interest and, in combination with the main subject, helps keep your eye wanting to move through it.
I also took very great pains to ensure that the leading line was uninterrupted as much as possible. There's nothing I could do about the pine trees growing up from underneath the viaduct, and I wish there was not as much vegetation on the right, but I extended the camera out as far as far as I could from the rock I was perched on to keep the foliage from interrupting the leading line as much as possible. In your photo, taking it a split second sooner so that the blurry tree in the foreground wasn't there AND that there was more blue water visible as it travels through the "straight" that the sandbar and foreground cliff are now creating, then I think the eye would flow more naturally around the bend without being feeling like it was being blocked.
That's my two cents!