January 20, 2021 at 2:45 pm
#57622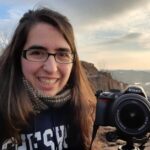 Lydia Bennett
Participant
@tashavk, wow those look really tasty!! Very nice.
Similar to what others have said, I believe the two main things to think about in shooting these photos is
1. Lighting
2. Clean backgrounds
Just a quick note, and I'm sure others could give more expert advice on lighting, but here are two resources here on Lenspiration that might be helpful: Lighting for Still Life Photography (video), and How to Use Bounce Flash (article with videos). Another thought would be to set up by a window and use natural light. Just be careful with different color casts in the same scene.
You mentioned the kitchen counter being crowded and not offering very good lighting, so I thought I'd share a couple things I've done in the past when taking photos in my own home.
– Photo #1 (rolling pin in action)
For this shot, I used the kitchen table and had two sisters holding a tan blanket behind it in the background. This gave me a nice simple background instead of seeing the kitchen sink back there. 🙂
– Photo #2 (chocolate cake with hearts on top)
Again, I set up on the kitchen table, zoomed in close on the subject and used a wide aperture to blur out the background. Here's a fantastic video on How to Create Beautiful Background Blur, with the same concept in mind. Notice the angle that I took as well. It made the cake really stand out and kept the photo simple.
– Photo #3 & #4 (teacup & hands holding teacup)
Here, I set up on my grandmother's old hope chest in front of a glass door with a sheer white curtain hanging on it. The door provided a nice clean, bright background with natural light, and then I set up some white lights (make sure they'll provide the same White Balance as the natural light) with diffusing umbrellas to brighten the subject from the front. Again, note the angles.
– Photo #5 & #6 (earthen look with honey, and hands on mug)
I took our large pastry board to use for the wooden background here. In the first of these two photos, I placed the items on a table with a tan top, and stood up the pastry board behind the items for a wooden, rustic background. The second of those two, I placed the pastry board on the table and then set up the shot on top of that. This was in front of a large window to provide plenty of natural light, and then I used bounce flash for fill light.
So anyways, just thought I'd throw out those examples to prompt some creative ways to set up various areas for these types of photos! 🙂