January 20, 2021 at 3:16 pm
#57630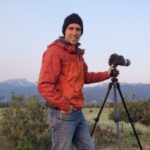 James Staddon
Keymaster
Ok! So, does a smaller pixel size mean lower quality?
From my understanding, to a degree: more noise when shooting in low light. https://techforanyone.com/megapixels-dont-matter-cameras/ So it may not be as big an issue for you, if you don't plan to do much low-light photography!
Because I'm used to only having 9 focus points, 45 sounds like tons to me!
Yes, 45 would be an upgrade for you. 🙂
I'm not sure about going full frame.
Oooh, I had hadn't thought about that. Well, when you go to upgrade lenses, you'll most likely be getting EF instead of EF-S lenses, so going full frame later might be a better option than trying to upgrade both camera and lenses right away.
Has anyone had any experience with using an adapter to be able to use your EF-S lenses on an EF camera body?
Sorry, I don't have experience with this. I think you're into photography enough that you would notice the negative side affects of adapters.