February 1, 2021 at 11:10 am
#58079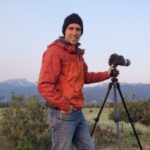 James Staddon
Keymaster
Wow @sonja-grace, that's a difficult one! I spent quite a bit of time trying to figure out how I would edit it, and never really figured out a way to "fix" the photo with editing. I think trying to enhance the mood of the picture by keeping things lower contrast in the background would help keep the attention on the geese and less on the shore. I also tried to move it away from looking quite so blue, though, depending on what screen you're using, it might appear too pink, so, not sure if I got that balance correct yet. I added more contrast in the water to help make the foreground look less hazy. I also opted to include much more sky in the photo so that the mountains look more like distant objects, and the geese smaller and more part of a bigger scene.
I also tried a black and white version, but didn't like it as much since I think the increased contrast draws too much attention to the shore and mountain, and there's not the nice color contrast between the blue background and kinda orangey water around the geese.
As you can see on both photos, I obviously didn't take the time to to remove the foreground elements as masterfully as you did.