February 22, 2021 at 12:36 pm
#59832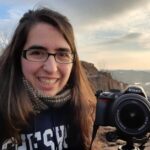 Lydia Bennett
Participant
Yikes, one week left to this assignment! Has anyone else besides me procrasinated on this? :[
Just wanted to put out a quick word of encouragement to everyone to shoot this assignment (if you haven't already)!! ….yep, even with only a week left!
Thought I'd take a moment to share a bit of what's going on here on my end of things…
Because I'm so last-minute on this, it limited the options I could work with for available times in my schedule and for asking families if I could photograph their kids. Good reminder not to procrastinate, but also not to just give in and ditch the assignment because I did procrastinate.
I give some music lessons, so I decided to ask a couple of those families if I can take pics before or after the lessons. I felt kinda nervous when texting the first two moms I had thought of. "What if they don't want to do it?" "What if they feel pressured by me asking?" "What if they feel awkward about it?"
But I texted both of them something like this:
"Hey [so-and-so], I have a question for you! As you may know, I'm a photographer as well as a musician. 🙂 I have a photo assignment through Lenspiration.com that I need to do this week and was wondering if you'd be comfortable with me taking pics of [your kids] for it! Thinking before or after lessons on Wednesday? The request is for photos that show the joy in children's faces when receiving/opening gifts. It's for the homepage of a ministry's website, lifelinegifts.com. If that's not something you're comfortable with, or if the kids would rather not, no problem! Just thought I'd put it out there and see! :)"
I felt like it answered questions they might have: "What is it for? Who is going to be using the pictures? What's involved? What is it a picture of? When might we do it?"
I felt like it kept casual and not pushy: "if you'd rather not, no problem!"
And then the ball was in their court!
Within a half hour, I had gotten two texts back. One mom said, "We would rather not. Hope you can find someone else." The other said, "We are happy to help. They both happily agreed!"
I thought, "see, Lydia?! That wasn't that bad!"
And, since I did get one positive response…now to plan the details of the shoot itself. Buy some candy, treats and wrapping paper for the kids' gifts. Make sure I have working batteries in my speedlite. Get to the location early so I know where I will set up and what angles to choose. Set aside a time slot on my calendar to edit the photos afterwards.
It may not be an easy assignment, but it's a growing assignment. And growth is good!
Guys, let's be a blessing to Amaris and give her a nice variety of quality photos to choose from! 🙂 Can't wait to see what kind of submissions everyone else comes in with!