February 27, 2021 at 1:26 pm
#60662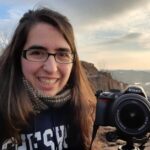 Lydia Bennett
Participant
Wow, nice job, @blessingscaptured! Looking forward to hearing answers to your question on lighting, as I'm still learning alot with bounce flash myself!
Personally, I think the better photos are where the light is on the little boy's face rather than the back of his head. Feels more natural with the shadows on his back.
And, in the photos of the little girl, that was a great idea to bounce the light off a sheet! Something I don't know I would've instinctively thought of.
I also think the teddy bears are super cute! 🙂