February 27, 2021 at 1:45 pm
#60663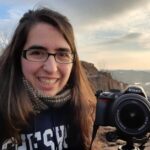 Lydia Bennett
Participant
Here are my submissions! The kids did great, so there were no difficulties there. They both were very comfortable in front of the camera and did quite well.
My main struggle was with the setting we were in; composing the shots in a way to make the most of the location.
I took the photos after giving the kids their music lessons at the church they attend, so we used the lobby, a hallway and a little fireside room to take the pictures. I tried my best to give the feeling like we were in a home rather than a church. 🙂 I also didn't want the "home" to appear too nice and fancy, considering the context that these photos are for, but I'm not sure how successful I was.
Fun story: I had asked their mom what I could get them as treats, to put in the boxes as a thank you. She told me their favorite candies, so I got those. When the girl was opening her box, she was acting "fake surprised" about the gift, but then when she saw the contents she got super excited and was like, "I really AM surprised!!!" 😀 She was very happy 🙂
I also did some photos with the boy outside since we had some extra time. I know he's not actively "eagerly opening a gift" in them, but since it was such a nice day (it was super warm…like 50 degrees outside!), I thought we could take some photos out there too.