March 4, 2021 at 10:48 am
#60826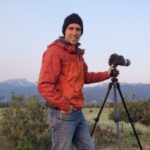 James Staddon
Keymaster
Love the details and texture in the feather, @peaunut! Nice and sharp. A couple thoughts on things that might make it a better shot:
* Since the feather isn't symmetrical, I think it would be better composed in a way other than dead center. With the way that the feather bends from the top left corner and points to the right edge, perhaps giving more space on the top and right would make it look more like an artistic photo as opposed to a documentary photo of a feather.
* I might try tweaking the colors a bit so the water looked a little more blue and less murky-looking.
* I'd play with editing out the white specs on the surface of the water and then removing as much grain as possible from water to make it look more smooth and clean. Again, not something you could have done much about in real life, but some work in post could take it up a notch in likeability I think!