March 8, 2021 at 10:51 am
#60991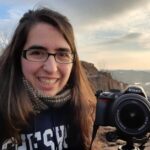 Lydia Bennett
Participant
Is she playing all 3 verses of As the Deer, and all 5 verses of Fairest Lord Jesus, in her arrangement?
I know sometimes when you do a musical arrangement, you don't play all the verses but you do have specific ones you're thinking of as you arrange the piece (for example, if you are playing with the 1st, 2nd, and 5th verse in mind).
So, just want to clarify if she's hoping to illustrate all of the verses, or a select few.