March 26, 2021 at 5:56 pm
#61372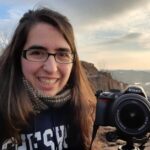 Lydia Bennett
Participant
You sister's coat!? Ah, wow I couldn't figure out for the life of me what it was. Very interesting. Not sure I would've chosen to have the framing to come across quite so strongly, but it's certainly a creative idea.
Never been to Harrisburg. I'll have to keep that in mind if I'm ever travelling through 🙂
Your portfolio is very impressive. Good, quality work! It's looking really great.