March 27, 2021 at 11:56 pm
#61457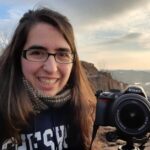 Lydia Bennett
Participant
YAY, @sarahb! I'm so proud of you for doing a self-portrait! That's no easy task. 🙂 I love the color dress you chose…it adds such a vibrant feeling to the image.
And, here come a few pictures of my own. This is literally the closest to deadline I've ever submitted! 😀
Was so grateful for the opportunity to head over to a nearby park with my sisters one day…it was frigidly cold, but the lighting at that time of day was simply delicious!
I was so bummed when I realized I didn't even think to check my ISO…I wasn't even thinking about it until later in the shoot when I realized I was shooting at ISO 400 when I could have easily been down at ISO 100. Those details!
Anyways, with these photos, I was attempting to illustrate lyrics from "As the Deer".
I think the photos could really apply to several phrases in that song, but the ones I had in mind specifically were "to You alone may my spirit yield" and "You alone are my heart's desire, and I long to worship thee." Wow. May that be the cry of my heart.