June 9, 2021 at 11:03 am
#63127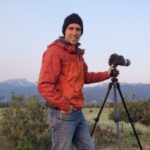 James Staddon
Keymaster
@blessingscaptured, yes, using an umbrella over the flash does cut the power of the flash. However, I am not familiar enough with off-camera flash at the moment to know exactly how much.
In order to use reflected light using an umbrella, I think best results would come from using a black cover over the outside of the umbrella so less light would go through the umbrella and more light would be reflected back.
I place the umbrella-diffused flash only as far away from the subject as needed to prevent it from showing up in the photo. The closer the better. For large groups like you mentioned, usually yes, you will need two lights. Using one, if you place it 45 degrees to one side (in order to get the directional light), then there will be significant light fall off noticeable on the subjects on the opposite side. In order to get the attached photo, it absolutely required two lights, 45 degrees to the right and left, just off camera.
I haven't fully read this article, but it seems like perhaps it could give you some more detailed answers than I could give: https://scantips.com/lights/umbrellas3.html