July 8, 2021 at 10:54 am
#63599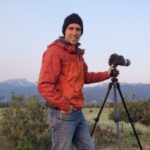 James Staddon
Keymaster
@blessingscaptured, sorry I've not been responsive! Not quite the end of Convention season yet. 🙂
Interesting about the flashlight. Now that I think about it, it would need to be diffused also, which would reduce it's brightness. I guess you'd need a very powerful flashlight.
I do not know of any way to tell what color the ambient light is other than going and looking at the lightbulbs that are providing the light. Some research on the general color range of different types of lightbulbs might actually be pretty interesting!
About getting the bride and groom evenly illuminated, part of it had to do with post processing. You're right, since there are subjects closer to the flashes, they are going to be brighter. In post, a slight radial filter was used to bring the exposure up by about half a stop.