July 8, 2021 at 4:02 pm
#63605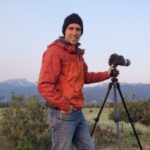 James Staddon
Keymaster
I like the different camera. Looks less like a "toy camera".
Some ideas:
* Drop the drop shadow (drop shadows are to set text off the background, so like if light text on light background….you already have plenty of separation here with the font "colors")
* Is b&w and gray for colors intentional?
* Maybe stack, left alighted, Family, Wedding, and Commercial, nd make a little bit bigger?
* Embolden "Hannah Jones"
* Drop the words Email, Website, Cell
* Still not digging the fonts….can all the text below be the same as "PHOTOGRAPHY"?