July 17, 2021 at 3:18 pm
#63710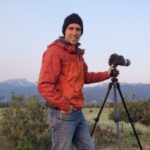 James Staddon
Keymaster
EXCELLENT research here! Let me share just a bit from experience.
I really like the Joby strap. @esther's brother introduced me to it years ago and I was skeptical at first because of the price (like, really, for a strap??), but after he showed me how it worked in-person, I was sold. For some reason, however, they don't manufacture them any more, so they might be hard to get your hands on. As you look for one, it might not be readily evident that there is an extra-large size and one specifically designed for women. The extra-large version would probably be too big for you. There's very little difference between the men and women's version, and I think the men's version would work for any adult. But the women's version is just designed slightly different to make it fit better. As for having to take it off for mounting on a tripod, that's a very valid drawback. For me personally, I generally find myself using one camera for tripod stuff and another camera for event-related stuff, so I don't take the Joby strap off very much. However, if you use a tripod much, then swapping the Joby strap with a quick clip for your tripod is going to be very annoying very quickly.
This makes me like the idea of going with the whole Peak Design system. I've never used any of their straps, but I have used their little red snap-ons with the regular camera strap, and it's a tremendous time-saver. I like how the same strap can be used for three different carries. I wouldn't worry too much about it being not secure.
As for the 3rd option, the capture camera clip, that is my go-to choice for hiking. Completely hands-free, secure, and beautifully compatible with a tripod. But like you said, it's not necessary user-friendly for women. Nor is it my choice typical, every-day use.
Therefore, of the three you mentioned, it seems to me like the Peak Design strap is going to meet your needs best. If you use a tripod a lot, you'll probably only want to attach the strap to either side of the camera (and not on the tripod mount area). Hope you can find a good deal on it, being so expensive. 🙁 Maybe you could find an off-brand that does the same thing, and try it out for starters.
Anyway, that's my two cents!