July 27, 2021 at 3:38 pm
#63928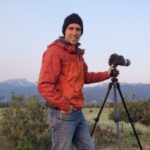 James Staddon
Keymaster
@blessingscaptured, to answer your questions:
* Yes, I'm pretty sure there are only three "sizes" of that kind of Joby strap: women, men, and men extra large.
* It is VERY easy to screw on and off the Joby strap. But that doesn't mean it comes off easily when you don't want it to come off! It's designed very well.
* Yes, the cording on the anchor links do wear out eventually. I bought some in 2016 and I still use them, but you can tell they are warn. However, I'm not planning on buying new ones any time soon. I'd say I'm maybe through half their life.
* I'm not sure I understand the question, "have you ever used the Peak Design anchor links with a Manfrotto tripod plate?" I do not have reason to tie a Peak Design anchor link to a Manfrotto RC2 tripod quick release plate, but yes, if you wanted to, I'm sure you could tie the anchor link to the metal ring that is used to tighten the quick release plate onto the camera. I tried it, and it works on my particular tripod head.
* For carrying two camera's at a wedding: one camera is on a Joby strap, the second camera is on the Peak Design clip on a waist strap.
If you are going to be on the webinar tonight, please ask about it and I will show you everything you've asked about!