October 19, 2021 at 6:41 pm
#65682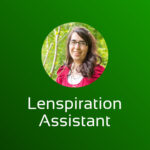 Lydia Bennett
Keymaster
Wow, @hmlanc you really have a good variety of pumpkins and gourds to work with!
Alright, here's what I got.
I wanted to try to photograph the first example image without merging multiple photos together in Photoshop.
First try (the other day), I naively left all photographic common sense behind and thought I would attempt to photograph it with a sibling tossing some leaves. Warning: not possible. 🙂 To get the leaf in focus and facing the right way and tack sharp and in the right spot…..impossible.
That set me behind in my schedule as I didn't have an open slot on my calendar till today to try another attempt.
So, here's what I did for my second attempt. I taped a leaf to a large piece of glass and had a sister hold that in place with a tree in the background. It sort of worked, sort of not. 🙂
Benefits: Leaf in focus, tree blurred out in background.
Challenges: reflections in glass, streaks on glass, tape visible (needed Photoshop out), looks a little fake.
But, I've attached my attempt along with a behind the scenes shot I took on my phone so you all can see what it looked like after editing and what it looked like in real life! As you can see behind the scenes, we only buffed off the bottom half of the piece of glass to make it as clear as possible.
I failed at my attempt, but I just know there's someone that could do a better job at it, so just wanted to put that idea out there for you creatives! 🙂