November 2, 2021 at 12:54 pm
#66098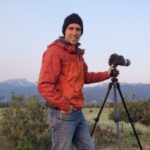 James Staddon
Keymaster
I wouldn't be surprised if the person who photographed the photo that inspired your shot had no idea what they were doing either. 😀
It looks authentic…because it is. The camera is literally falling. I would be curious to know, how did you capture it mid-frame like that, in focus? And the leaves are literally falling. They are not photoshopped in. It's simply two authentic photos merged together. That's impressive.
I would agree with @cheesestick that including the straps adds a lot to the photo. They give the absolutely necessary element of implied movement.
It's interesting the difference that the crop makes. The one less cropped gives the impression that this is a scene; as though I'm looking out my living room window on an exceedingly blustery day and see a camera falling with leaves from a nearby tree. There is an increased awareness of the camera's hovering state, and the story of the photo centers more on the oddity of the situation.
The cropped version tells a story centered more around intangibles. Concepts like "fall photography", or "let loose with your autumn photography". It's a concretely creative and artistically abstract approach to saying without words that autumn is an extraordinarily fun time for photography. "Get out there and make the most of it." Without question, I could see this photo being used in Minolta advertising.
I might crop it a little differently, with less sky above and more grass below. Still personal, but more intentional. And, may have processed it a bit differently too, for my personal tastes.
But overall, this is exceptional. Nothing else like it out there on stock that I could find.