November 18, 2021 at 8:34 pm
#66456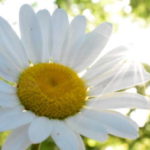 Blessings Captured
Participant
Here's a couple I got of comfrey leaves. To get brighter, diffused light I set up out on our veranda.
I used a 58 mm, 1.4 manual lens set at f/4.0. Even though I was using a tripod I couldn't go too low on my shutter speed because the wind was picking up and shaking the leaves.
I was trying to go for bright and simple, but to me it doesn't seem as if I accomplished it very well. Maybe, because it's not "bright and airy" and then it's too simple.
-Hannah