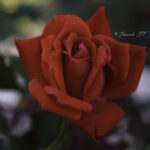 Hannah F.
Participant
Hello Lenspiration group!
My name is Hannah and I just joined Lenspiration, with the main purpose of participating in the "Shoot to Serve Assignments." I look forward to participating in this great challenge since I started as a nature photographer (currently doing candid event photography). I also started with the focus of close up photos since I got a macro lens shortly after I got my camera (almost 4 years ago). I shoot with a Canon, but have several other friends who shoot with Nikon and Sony.
I hope to be posting my photos within a week or two. I already have 3 photos that I think I will use, but want to post them in groups of 5 or all together. Wishing you all photographers success. I'm looking forward to seeing everyone's photos and watching the critique.
God bless,
Hannah