May 16, 2022 at 6:54 pm
#70488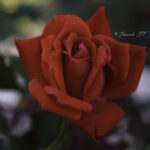 Hannah F.
Participant
@BlessingsCaptured, what a great idea you had to use waterdrops to magnify the flowers. I believe they are Shasta Daisies and I also have those wildflowers as well.
I understand the frustration of dust particles on your camera/lens, but you did well in problem-solving it by using the healing brush. Although another solution would no doubt be helpful considering you do not want to overedit your photos. I'd recommend using a microfiber cloth, or as James Staddon recommends just using camera-lens disposable wipes.
For me, I often keep a microfiber cloth in my camera bag, and often clean my lens before and after taking photos. I have had that problem before, and often just have to choose either a day that isn't as windy, just clean the lens carefully after every 30-60 minutes, or as you did in using a healing brush or masking filters.
I'm not sure if this is as at all helpful, but I can relate as well. You have some great macro/up-close photos!