June 6, 2022 at 7:00 pm
#70952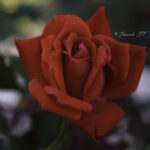 Hannah F.
Participant
Hello,
Is it alright if I submit photos that are similar to Staddon's second photo? Also, is a flat-lay of the tract placed in a restaurant server's check book acceptable?
I agree with @JamesStaddon that this assignment is hard because handing tracts out is a general short occurrence in a day, and it would look odd to be lugging a camera around. So, are phone photos acceptable/okay? I use an iPhone 12, and can edit the photos via Lightroom (LR). Thank you for your patience in answering my inquiries. I appreciate it. This is going to be a tough assignment for me because when a member of my family hands out tracts to the restaurant's server or another worker, the exchange happens so fast. I guess I might have to stage it!
To all the other photographers out there:
Don't let this assignment daunt you! This will be a great assignment to stretch your creativity. So let the creative juices flow, get out there, and do your best!
Looking forward to see your work! 😀
Blessings,
Hannah F.