July 6, 2022 at 1:23 pm
#71287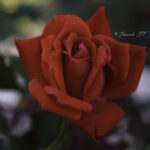 Hannah F.
Participant
Hannah, how fun that you are into food photography! I've done it too, but mainly for desserts. Considering that I don't know all the props you could use or have, my comments are merely suggestions and may or may not work.
Here's some small details to check: On your first photo of the enchilada-looking dish, I would try a landscape shot. By doing so, perhaps you can include more of the chopsticks. It looked a bit odd to me that the chopsticks were merely in the corner and seemed chopped off (funny pun). Anyway, others might say that it looks fine as is.
I love your ice cream shot! So delicious. I love how you chose a white background, because it results in a light and airy atmosphere. However, a small detail to consider is that the ice cream is melting quickly.
So, I've been seeing two types of food photography. There are the type of food photographers who want all their food to look perfect and advertisement-worthy. However, the other type of food photographers want to portray their food to homeowner's and so they make it look artfully messy. This would include strewing the ingredients–ones that you used to create your food–around the main dish. Considering that second type of food photography, you would want to zoom out a bit when doing your overhead shots, because otherwise, it will look too scrunched.
Anyway, back to the ice cream, the first type of food photographers would want the ice cream to remain completely solid, allowing no drips. Oh, I would recommend sprinkling mini chocolate chips around your ice cream, since I see you have the chips in the ice cream.
The second type of food photographers would most likely want the ice cream dripping, and even dripping down off the side of the bowl. This is for real and I have seen it.
On the third food item of the meat in the iron skillet, I don't know how easy it would be, but I would recommend zooming out from the skillet because it did look a bit scrunched.
Last of all, for the 4th photo, which I'm guessing is a rhubarb/raddish canning or jam, I would put a bit more space between the veggie and the jar so that way there is something in the foreground and background.
For food photography, there is a rule of odds. So, in your ice cream photo for example (which I love!), you have 3 elements which are the ice cream in the bowl, the mint, and the board. For my attached example of my food photography, I used an odd-number stack of oatmeal cookies and put some space in between the other stack behind it.
This got rather long, but I hope that it was a bit helpful if at all. Thanks for sharing your food photography! Enjoy!
Note: I also know of Nature Friend and hope that yours gets picked!
~ Hannah F.