July 12, 2022 at 7:30 pm
#71353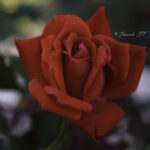 Hannah F.
Participant
@BlessingsCaptured, love the first photo because first there is more focus on the Bible rather than the person and second, love the bokeh (I'm pretty sure you know what that is!). Lovely bokeh! Creative idea for your subject to wear blue to match the organization's theme. Great attention to details. Yes, bokeh makes things so light and airy, great way to put it! I'm sure that you took the Sunday morning photo during golden hour, which is great! Golden hour really makes photos, well, golden! 😀
I am very determined to not miss this photo assignment!! Will be working on it soon!
Note: For other readers who read this, bokeh is the effect when a camera's aperture is set wide-open such as f/2.5-3.5. Having a wide-open aperture allows as much light to enter the camera, causing the camera to blur filtered light or the background of a subject, creating the effect that we call bokeh. The bokeh is the ball-like effect we see on the light, generally through filtered light such as light pouring in through the trees. Some photographers pronounce "bokeh" like "bo-ca," while others pronounce it as "bouquet," as in a bouquet of flowers.