July 18, 2022 at 3:27 pm
#71421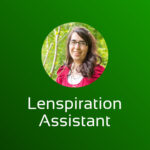 Lydia Bennett
Keymaster
@allieworrall, shooting in manual gives you control over your camera settings, so you can tell the camera what settings to use instead of it deciding for itself! 🙂 It's a game-changer when you know how to do this!
I'd highly recommend that you download the Phase I workbook from the Lenspiration Photography Program here. Even if you don't go at the rate the workbook recommends, this will give you a great place to work from! Starting in "Week One" of that workbook, you'll be given the tools you need to start taking control of your camera!
The shadows in your picture are intense because of the high contrast in the lighting. In the direct sunlight like that, you'll want to shoot with backlighting (so, face your sister towards her shadow and make sure you are facing the direction of the sun). And then adjust your camera settings so the shadow areas are brighter and the background overexposes. Shooting in the early morning or late afternoon is also helpful, as the lighting is naturally more beautiful during those times of day.