September 7, 2022 at 11:17 am
#72178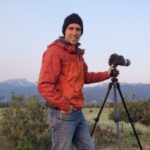 James Staddon
Keymaster
I like the idea of a stretched background for taking care of wrinkles. However, a cheap way to get rid of wrinkles is to spay it with water and wait for 15min or so for it to dry.
The size would be determined by how far away it is from the subjects. Usually I like to keep several feet between the subject and background, meaning I need a bigger background. However, it's fine if it's like inches away if there are no shadows, which depends on the lighting setup you have. I don't have enough experience to tell you exactly what to do, but generally I like the background further away because it helps prevent shadows from being a problem. If you can get shots without shadows with the background closeup, then you won't need a very large background.
Good question about the grommets! I assume so. To hang cloth from my backdrop stand along an edge that doesn't have a loop, I use these cheap clips: https://www.amazon.com/gp/product/B07ZX18J9Y/ref=ppx_yo_dt_b_asin_title_o08_s00?ie=UTF8&psc=1
From how I've seen others use paper, it's kinda disposable. They use say, 10ft, for a photoshoot, cut off what is dirty/scaped/wrinkled, and then use new paper for the next shoot. I thought about using paper, but it's bulky (can't fold up, hard to port around) and all wrinkles are taken care of for me with a spray bottle on my cloth backdrops.
That last option looks pretty neat! I don't think it would be useful for anything more than 1 person, maybe 2 people close together.