October 19, 2022 at 4:21 pm
#73053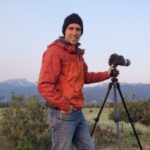 James Staddon
Keymaster
Hi @warrior-princess, sorry I hadn't gotten back to you on this! Yes, the "spammed" messages have been "unspammed", and I can respond!
* Yes, I would say Sony is as good as Canon, in many respects.
* I don't believe many mirrorless cameras have optical viewfinders. The digital ones are really good now, though. Not like the old days. 🙂
* 1-2lbs is fine weight! I am used to carrying around 3-4lbs all the time with my DSLR + lenses.
* About the links you sent, the one with the list of cameras, that first one, the Sony Alpha a6500, is a great camera! At this point, with your parameters plugged in, probably the next thing would be to see which camera that has the highest rating is in your budget. If you need another determining factor, you could choose a brand, and then find the highest rated camera of that brand that's in your budget (Sony, or Canon, or even Nikon).
* The 6D is a fantastic camera. Probably overkill for a starter camera.
* I'm not really a fan of the Canon 2000D (The T7). If you can find the T7i, or T6i, those would be better cameras.