June 28, 2023 at 6:15 pm
#80185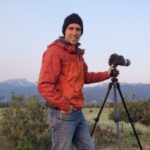 James Staddon
Keymaster
Wow, that sounds like so much fun!
Glad you saw the Landscape Locations Guide. To add to it a bit, thinking about it from a vacationers perspective, I'd think about it in terms of angle of light. Of course, the couple of hours before sunset (or the couple of hours after sunrise) are going to give you the best lighting (colored and/or directional). Looking at satellite imagery, it's interesting to see what direction the falls are pointing. From the USA side, I would think that the afternoon light would be very harsh, since you'd be looking southwest at the falls, right into the sun. This would be perfect for sunset maybe, but not late afternoon. If you can't be there at sunrise or sunset, I'd guess as early in the morning as you are able to be there the better. You'd have directional lighting to work with. And even if the lighting is shining directly on the falls across the river, at least some of the fall should be in shade since it bends like a horseshoe so much.
If you can take your camera on the Maid of the Mist, make sure you have a way to basically make it waterproof. 🙂
Those are my thoughts for now!