August 29, 2023 at 2:01 pm
#81269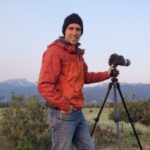 James Staddon
Keymaster
@dotremain, my apologies for not answering your question from Friday before the assignment ended! Thankfully, the resolution of a photo has no bearing on how it is viewed on a screen. The low-res photos you uploaded here at 96ppi would have looked the same if you had exported them at 240ppi, or 72ppi.
However, it would be different for printing, so if you wanted to send a photo off to print, it would be good to know how to set the ppi in LR Classic. You do that when exporting the photo as anything but DNG or Original. See attached. For printing, I would change this to 300ppi.
And for your knowledge, @lydiabennett, ppi is actually not something that can be set when exporting as DNG (as seen in the screenshot you provided). At the moment, I'm not sure why the properties of a DNG say "96dpi", but I'm assuming that is the default ppi for DNGs, set either by the camera or Adobe.
At any rate, I'm glad you got to submit some photos, @dotremain! I feel that way with just about every assignment; "I think I know how to shoot this pretty well…." and then it becomes a grand learning experience! That's what makes these assignments so wonderful.