September 5, 2023 at 3:17 pm
#81434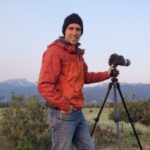 James Staddon
Keymaster
Hi @grace-galdamez, thank you for your patience as I get settled in after the summer travels!
You've got some great photos here! A few comments:
20230824093028_IMG_1717-02-01.jpeg – Good photo to convert to B&W! Lighting is amazing. Notice how the light catches the edge of the cats body, setting it apart from the background. I'd like to see more separation from the background around the mouth and nose of the cat. I'd also see if I could have included more space below the cat (instead of above the cat) to include more of that line in the table that could work beautifully as a leading line. Plus the texture in the table is amazing.
20230824093050_IMG_1719-02-1.jpeg – What would be your caption to this photo? What story is it telling? Is the cat distracted from his "work" at the typewriter by some fly buzzing on the wall? Is the cat too proud to go to work typing away? Did the photographer make the mistake of snapping the shot right as the cat looked away? Is the cat supposed to even be in the photo? Or is it the typewriter that isn't supposed to be in the frame? The story of the photo at the moment is unclear, so I'd do what I could to make it more clear.
20230825172047_IMG_1787-01.jpeg – Tack sharp! Great blurry background. Good expression, pose, posture. Good color. You could say the background may be slightly distracting? Not "creative" per se, but a good portrait.
20230825172118_IMG_1794-01-01.jpeg – A more creative angle here. Maybe a bit warm in post processing? Again, everything is technically superb. I like the subtle framing of the tree branch above.
20230825172105_IMG_1791-01.jpeg – This is much like two previous. Framing isn't as good, as I feel the dog is too close to the edge. of the frame. Too heavy for the line of sight and "busy space" on the right to balance out. Perhaps a horizontal framing would be better?
20230825172056_IMG_1789.jpg – This I think is my favorite of them all. Perhaps the expression, posture? Compositionally, there's something attractive to it. It might be the series of abstract triangles within the construction of the animal shape. And line of sight not going down, but out instead. Perhaps would have left slightly more space in front of the dog for line-of-site breathing room. And maybe cropped a pit off the top so the eye was not so close to the center x axis. Again, not so much "creative" as a well done portrait.