November 7, 2014 at 8:30 am
#8206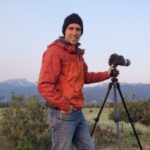 James Staddon
Keymaster
I'm glad you brought up this question about the moon because it happens to be one of the most elusive subjects I've ever tried to shoot. In fact, I would say that I have taken 0 pictures of the moon that I feel have turned out.
This means I can not claim to offer any real advise, but I can tell you my conclusions and plans for my next "full moon" shoot after experimenting over many years.
As @buddingphotographer said, and as you now know from experience, when exposing for the moon, the sky goes black, and when exposing for the sky, the moon goes white. You either have detail in one or the other. Never both. For one thing, this shows the amazing dynamic range that God has made possible with our eyes. It's incredible how limited the camera is!
There are only two ways I know of for overcoming this problem.
1. The first way is to simulate double exposure using a program like Photoshop. It's not that hard to do, and probably the most common way people do it. But it's fake. And it totally obliterates the real thrill of landscape photography. There is a better way, an authentic way, but it is one of those things that you have to plan for.
2. There are slivers of time around the time of the full moon where you can including the natural moon in a landscape image with getting detail in both moon and sky. I do not know exactly when those times are, I'm still experimenting, but I would trust what Royce Blair says in his helpful article Into The Night Photography. His conclusion on the slivers of time you can do this are: "1. The night before the full moon, the moon rises just a few minutes before the sun sets; and 2. the morning of the full moon, the moon sets just before the sun is starting to rise. During these two periods, there is just enough ambient light from the setting and rising sun to give detail to the surrounding landscape — otherwise, it is too dark, and the contrast range is too great to record anything but blackness around the moon."
That's the best advice that I can give . . . and as soon as I can fit it into my schedule to be at the right place at the right time for this natural phenomenon, and come out with something that is presentable, then I'm sure you'll know about it. 🙂
This reply was modified 53 years, 11 months ago by .