April 7, 2015 at 10:38 am
#10566
Ezra Morley
Moderator
Ok, so have you downloaded the Lightroom installer yet? If not, begin the download and be sure to say "Save" instead of "Open" when it asks you what to do with the file. Now, in your Internet Explorer window, hit the Ctrl and J keys on your keyboard. That should bring up a dialog box similar to the one below. Click on the blue highlighted text under the "Location" column. It should open up a folder with your Lightroom installer highlighted. Copy that file to your USB drive/DVD.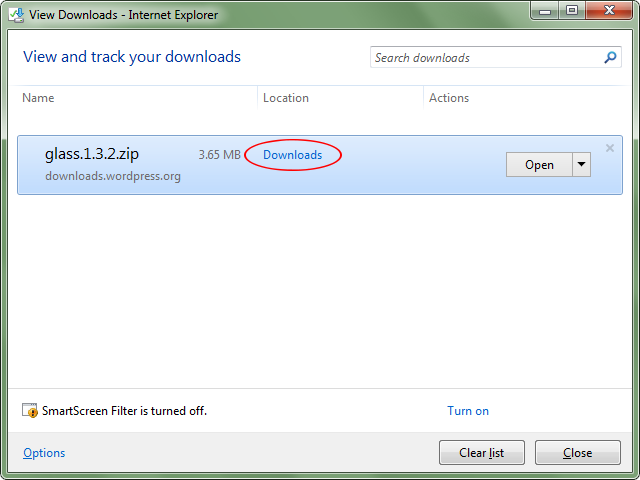 As to hard drives, I would recommend a 2TB one. Just think, for $20-$30.00 more, you can double your storage space! Of course, if you're on a low budget right now, you can always go for a cheaper 1TB drive, but I think you'll use up your storage space faster than you think, and wil have to buy another one within a year or two. Actually, it's a good idea to buy another one in a year or two anyway, and make a backup of your current one, because hard drives will fail. It's not a question of if they will fail, it's merely a question of when they will fail.
Also, if you're computer has a USB 3.0 port, be sure that you buy a USB 3.0 drive. It could easily double your transfer rates, which is really nice when you're backing up 359 GBs of data and pictures…
Anyway, you can take your pick, there are lot's to choose from! If you want to buy from Amazon, here's a Western Digital, or a Seagate drive. They both have excellent reviews, and you can choose whichever capacity you like. Note that if you buy it from Amazon, you're more likely to get a refund/replacement if it does fail on you.
Otherwise, http://www.ebay.com will have slightly better prices. If you find a good price, take the model number and search for it Amazon to see if it has good reviews. If it's got several hundred (or more) good reviews, then it should work for you. Remember, just because there are several one star reviews that "the hard drive failed in x months" doesn't mean it's a bad drive. Like I said above, hard drives fail. However, if it is a good drive, it should have at least 4 and 1/2 stars. On ebay, if in doubt, buy from a "Top Rated Plus" seller, who has at least 99% positive reviews. They want to keep their reviews that way, so they should help you out if you run into any issues.