If you're like me, and you prefer to search for photos on image database websites without being exposed to adult content, here's how to do it on www.pixabay.com! It's not as intuitive as you might think. A snippet from Photo Critique Webinar #22.
Apply what you've learned and share your experience on the forums!
Related Links
Summary
Are you familiar with Pixabay.com? Often used by graphic designers, Pixabay is a great website that provides an array of free public pictures to be used commercially for websites and magazines, etc.
Oftentimes though, there is unnecessary adult content on websites like this that are distracting and socially corrupting. Recently, I learned of a way to permanently block these inappropriate pictures while browsing on Pixabay.com.
After searching for a picture, on the right side of the top bar, under the "gear" icon, once can toggle SafeSearch on and off.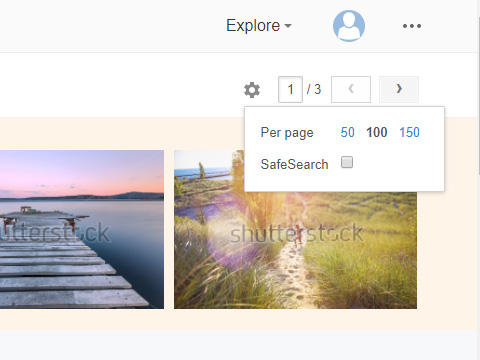 Unfortunately, however, if you leave the website, SafeSearch will automatically be unchecked. The next time you get on Pixabay, you will have to turn SafeSearch on again.
In order to save you the trouble of turning on this filter every time you browse on Pixabay, there is a way you can permanently activate SafeSearch. And you can do it, right now! Just follow these steps:
Copy and paste the following link into your browser: https://pixabay.com/?safesearch
Wait, just one step? Yup! It's that simple!
Your browser will permanently activate SafeSearch now any time you're on Pixabay.com. There's no longer even the option to toggle it off! Unless you clear the cache on your web browser, each time you return to Pixabay, SafeSearch will automatically and permanently be turned on.
It is important to keep in mind that, even if you have Safesearch turned on, you may still come across pictures that you feel are not acceptable by your standards. You can report these pictures by clicking on the little flag that appears when you hover over a photo you've clicked on.
When reporting photos, remember to give a clear, Biblical reason why you do not think the picture you are reporting is appropriate. Who knows, the person reviewing your Report comment may never otherwise hear a Biblical perspective! Our culture is eroding around us, and as representatives of the Lord Jesus Christ, we have the awesome privilege of knowing the source of truth and the responsibility to not only follow, but to persuasively encourage others to follow, the standards He has laid out in his Word.