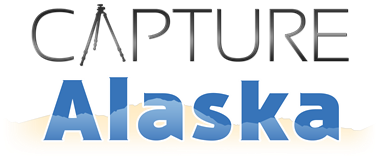 The CAPTURE Alaska page has been up for a while already, but I thought it would be good to officially announce it; with the 4th of July behind us now, August will be here before we know it! Besides, I have purchased my plane tickets and there's no turning back now!
Alaska is perhaps the most sought-after location in the USA for any nature photographer. And with August being Alaska's autumn, we're shooting to be in the mountains around Wasilla for the most colorful time of the year. Simply put, I can't wait!
Pristine mountain lakes, waterfalls, an old, abandoned gold mine, and other awesome spots in this photographers paradise are on the itinerary! Extra effort will be put into making the most of the photographically productive times of day at each location, but it will be up to Providence to decide just how profitable the ever-changing weather will allow us photographers to be. Rain or shine, clouds or wind, snow or fog, we can expect to capture beauty we've never captured before!
Oh, and by the way, I'll try to teach some stuff along the way . . .
You can get all the details from the CAPTURE Alaska page, and I'll hope to see you there!