Back in 2015, Abby was a budding photographer on an HEAV Photography Team.
A couple years later, I bumped into her at a wedding and discovered she had really moved her photography into high gear!
As a portrait and wedding photographer now, she's got some experience that not all of us have, so I asked if she wouldn't mind helping us out by writing up (from the advantageous perspective of "retrospect") the different things she wished she had known before shooting her first wedding!
And this is her response. Thank you, Abby, for taking the time to share these insights with us!
"Before I begin, I should probably give a little background information on myself!
"My name is Abby and I am (currently) a portrait and wedding photographer based out of Richmond, VA. I was never very artistically gifted growing up—I had a hard time even staying in the lines while coloring in picture books. I loved beautiful, artsy things but could never seem to replicate or create anything like that on my own. That's when I started thinking about photography. I perused Best Buy and the Sam's Club website trying to find a camera for weeks. I knew literally nothing about cameras except that whatever I got had to be big and it had to be Canon. Fast forward to Christmas of 2014 and my Dad told me that he had found a Canon Rebel Xsi camera. It was on Craigslist for $175. The rest, as they say, is history. 😉
"It was a great first camera and I eventually upgraded to a Canon 60D and finally (what I shoot with 100% of the time now) a full frame Canon 6D! I had a huge desire to get into wedding photography so I was over the moon excited when one of the photographers I knew asked if I could second shoot for her. I said "yes" and the very next week one of my friend's brothers got engaged and asked if I could photograph their wedding!
"All of that being said, I had been a "photographer" for about 10 months and I was finally photographing my first wedding! I was super excited and tried to gather as much information and as many tips for wedding photography as possible. I have now been doing photography for a little over three years and here are a five things that I wish I knew before I began doing wedding photography.
1. Always have a wedding contract!
"It doesn't matter how well you know the couple, you could even be best friends with the bride or groom, a contract is never something you want to be without. Contracts seem like a big scary thing but they actually aren't!
"My first wedding I didn't think I would need a contract because the bride and groom were friends and very, very sweet—and not having a contract wasn't a huge deal at first. However, since I hadn't given them a date for when they would get their photos back they were getting frustrated with me, because they thought they would get the photos back a lot sooner than they actually did. I also shared some of their photographs on my photography social media accounts (which I thought they would be totally fine with me doing—but the lack of communication here ended up being a huge mess!). It led to some confusion and more frustration, because I had failed to get a model release from them that would allow me to share photos on social media. Needless to say, I learned a lot about what not to do for a wedding and that you will always want a contract.
"The main things you should cover in your contract are:
Your turnaround time. How long will it take for you to edit the photos and deliver them to the Bride & Groom?
Amount of coverage. How many hours will you be there photographing?
How much you are charging them. This is definitely something you don't want confusion on!
Model release. You will want to be able to use these photos for marketing for future weddings.
That you are not liable for missed photos. I have had brides that wanted a particular shot of their great-grandmother's handkerchief that they never told me they wanted. While I will do my best to ensure that everything they want is captured, if I am never informed that the particular handkerchief was so important to them then I will probably not get that picture—because of that I always make sure that I have a clause in my contracts saying I am not liable for a missed photo when I was uninformed of the importance of the photo.
"Also, here's a little tip! You do not have to hire a lawyer to write a contract for you! There are lots of great ones out there that you can use as a template to fit your needs. 🙂
2. Have a second shooter!
"The first wedding I shot I was so, so nervous! It would have been really beneficial to me to have someone else there helping me get all of the angles or "be everywhere at once". You are one of the most important factors of the day because you are providing them with something that will last for so much longer than the cake or flowers (don't get me wrong—cake and flowers are still very important!). You do not want to be spread thin because of stress/etc. and not able to perform at 110%.
"If you absolutely do not know anyone who could second for you then see if a friend or sibling wants to come for the day. Trust me—even if they do nothing but carry your gear all day, you'll appreciate the moral support you'll be getting from them!
3. Wear comfy clothes!
"Yes you want to look professional, but often you'll be standing on your feet for 8-10 hours straight and that takes a toll after a while so please, please, please wear supportive shoes (you'll thank me later!). Also, make sure whatever you wear allows you to kneel, crawl, run, and raise your arms high because you will most likely find yourself doing all of these on a wedding day!
4. Warning! You will be the hungriest you've been in your entire life!
"I'm not sure what it is about weddings but I am always so hungry and exhausted at the end. It is a good idea to brings lots of snacks for when you have a few minutes of downtime and also something to munch on in the car on your way home. If the wedding itself is over 5 hours typically I will get a vendor meal at the wedding (something I forgot to mention that I always include in my contract—in essence, it says that the photographer and his/her associates will require a meal when the guests eat or thirty minutes to go off the venue site for food.)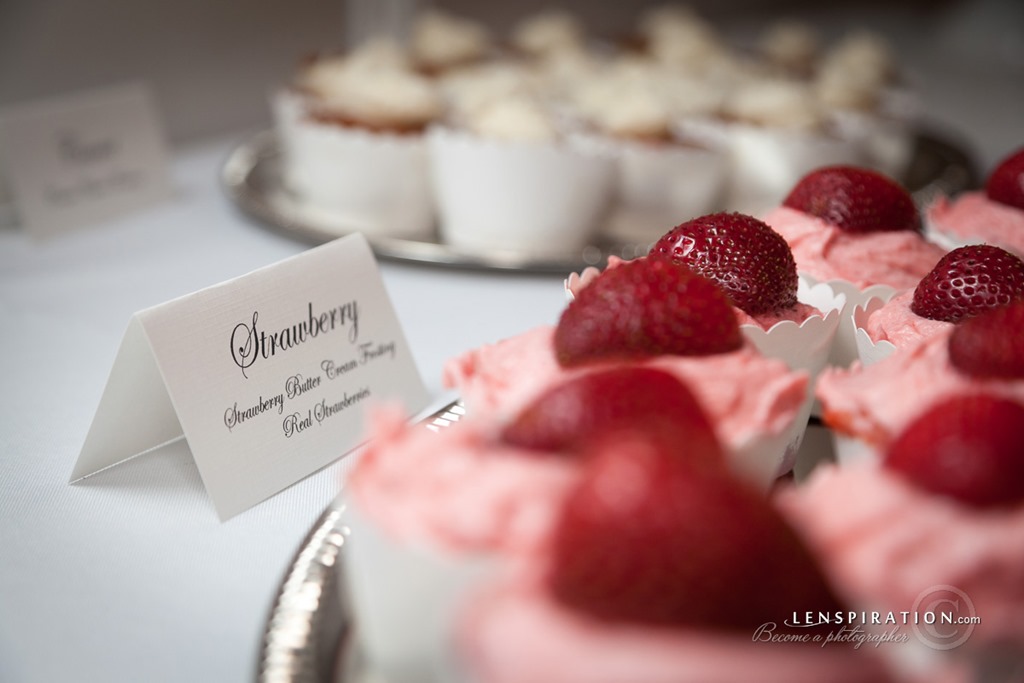 5. Have fun!
"Last but not least, have fun! It's totally okay to engage and participate with what everyone else is doing! Bring your camera along with you and enjoy the even. Often, the best photos are the ones that are not posed."
And there you have it! Here are some more tips for learning more about wedding photography: