I love the Bible! I love what it says. I follow what it teaches.
I love marriage too! And I'm so glad that the Bible has a lot to say about it! I love what God has set in place from the very beginning (Matthew 19:4). I love all the symbolism so cleverly, yet clearly, weaved through every part of Scripture between the union of one man with one woman and the union of Christ with the church (Isaiah 62:5). I love the way God has it set up, and I will follow Scripture as a photographer with my support of Biblical marriage.
And as a photographer who shoots weddings with many convictions! Not only does God love marriage, but he also loves discretion and chastity (Titus 2:5). What I take pictures of or portray with my photographs is what I love, accept and promote. I want to promote righteousness. I want to promote holiness! I want to produce imagery that I can show my children's children as an example of what is pure (I Timothy 4:12) and proof of the convictions I have been called to hold.
Not every wedding I have been invited to shoot have I shot. What our culture has accepted, even before it stooped to the extent that it did on June 26, is not the standard of the Bible. It pains me to see the very same immodest culture seeping into, no, completely permeating, the Christian culture of our day. And what will stop the now immoral culture?
So, with these storm clouds weighing heavily on my mind, it was with great exuberance that I stepped into the responsibility of covering a wholesome, beautiful, Biblical wedding on June 27. How could I not shoot with zeal, knowing that the Bible was being honored, that wholesomeness was being promoted, and that Christ was being praised?!
Not even the rain could stop us!
I was able to photograph the bride and bridesmaids under the breezeway at the front entrance.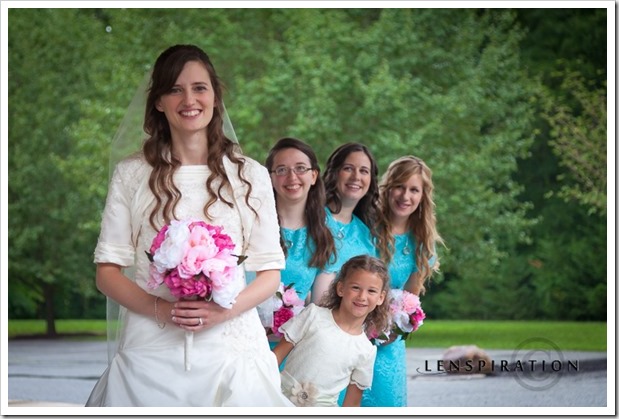 Thankfully, the rain stopped for the groomsmen portraits.
The bride and groom had never held hands through courtship and engagement, making the wedding day all the more special for this couple!
It was total sadness . . . I never remembered to actually eat one of these delectable cupcakes!
Rain wasn't the only problem during the bridal party shots . . . the wind was so strong coming off the lake!
Praise the Lord for men like Chief Justice Robert's who made some very bold statements statements concerning the SCOTUS decision. His 29 page, albeit readable and helpful, dissent on the Supreme Court can be found here. A mature summary for how one church I attended recently has responded, can be found here. How incredulous it is "that five lawyers would set aside the will of a people, the tradition of a nation and millennia of history to make such a ruling by judicial fiat." Let us continue to follow the teachings of Scripture. Let us continue to love the Bible. Let us continue to love God with all our heart, soul, mind and strength!