The other day, I ran across an interesting photo in my archives.
It was Easter Sunday, 2011. I was working in South Korea and had decided to visit a friend in the military stationed at the Osan Air Base. It was early afternoon, and we were taking the scenic route to the train station where I would pick up a ride back to Seoul. I don't remember exactly why we stopped at this particular location. We were just enjoying the beautiful day. But regardless of why we stopped or wherever it happened to be, there was this scene that evidently I thought was worth photographing. There was something about it that attracted me. Why else would I take 10 photos of it?
Looking at the raw photo, it certainly isn't the most beautiful place in the world.
But there was something that drew me in. Maybe something about how the giant apartment complex was nestled up to the hills folding around it? Or perhaps it was the attractiveness of the lumpy mountain ridgeline. Or, the spotted sunlight gleaming off the white walls of the apartment fortress?
There was something here worth photographing.
And if it was worth photographing, then it's worth editing! So the other day I edited it. And here's how I did it!
Now, before that, I want to know if this is the kind of blog post that I should be taking the time to write. Let me know what kind of blog posts you like by filling out the quick Help Make Lenspiration Better in 2022! survey here.
But now, back to editing this Apartment Fortress!
One of the reasons I wanted to write about this photo is because it was taken in the middle of the day. Midday photos are tough to edit. It takes longer to edit them. Often, I will just resort to converting them to black and white. But this photo was different. I feel like I was able to work with it well enough to actually get something that I liked. Looking back over the edit history, there are over 100 editing instances. It would be super boring to explain every single one of them to you. But I can give you the gist of what I was thinking, and the basic flow of thought that helped me move it from an ugly midday photo to something worth selling (on a stock website, at least).
I almost always start with cropping.
There was too much foreground. I wanted to crop out the gravestones in the bottom left. I almost completely cropped out the tree on the left, but when I did it cropped out too much of the mountains. The tree bows add a bit of framing, so it's fine.
Then I did my regular, quick edits and came up with this.
It's fine, probably very close to what I saw in real life. But I didn't like it. I'm not documenting an apartment complex. I'm creating a believable work of art.
So, I reset the settings and started over again.
I decided to start with the sky this time. There's interesting texture up there. So I played around with Tone Curve. Often, it will help bring back sky that's too bright.
But I didn't like anything that was happening in the sky with Tone Curve. The sky being too bright wasn't the problem in this photo. I needed something that would bring out the texture.
So, I did some basic global contrast adjustments and then utilized Lightroom's new, special masking tool on the sky.
That brought out the texture in the sky I was looking for.
Next, my goal was to bring more attention to the subject of the photo, the castle-like apartment complex at the foot of the hills. There are so many little distractions in this photo, I really needed to simplify things. So I tried a vignette.
That darkened the sky too much to be realistic. So I backed off on the vignette and used a linear gradient on the foreground instead.
That did to the foreground what I wanted. With some basic readjustments, it was looking pretty good.
But the buildings still weren't popping like I wanted them to.
So I added some radial gradients. One to brighten just the city. A second one to darken the entire scene around the city.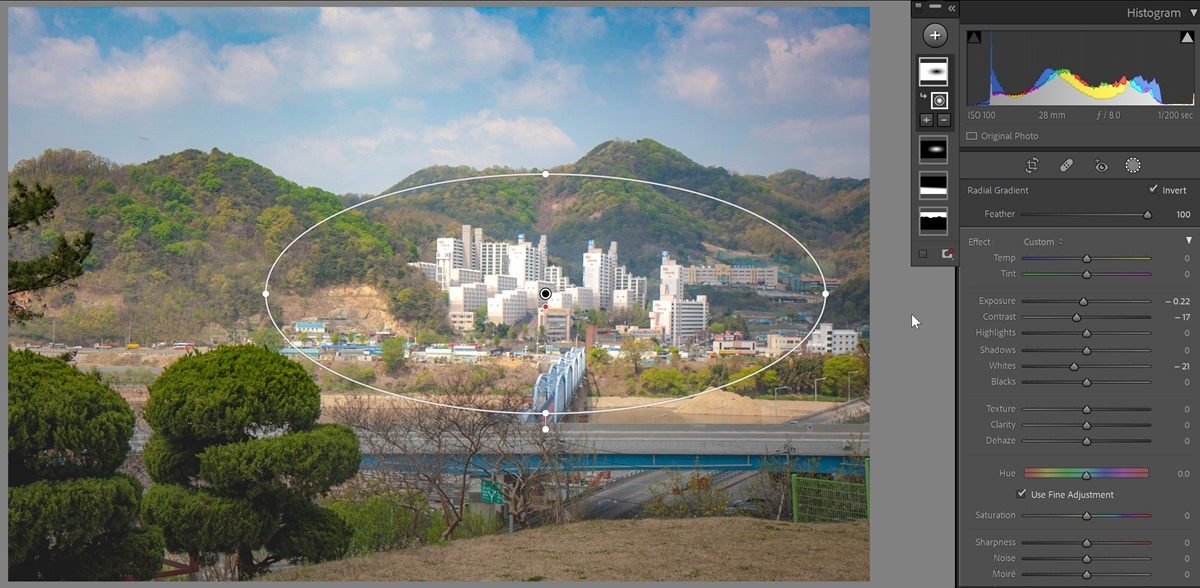 Then came a barrage of readjustments to tweak, tweak, tweak it to perfection till I came up with this!
The sky is dynamic, the attention goes directly to the sunlit apartments, and though it isn't the best framed photo in the world, I think it embodies what I was trying to capture that day.
With the monthly Latest from Lenspiration email update coming out soon for January, I need a nice photo for the free wallpaper. But I don't think this photo would make a nice wallpaper. Instead, I'm thinking I'll use another photo from South Korea. Which of the following three do you think I should use? Which one would you want to use as your desktop background?
Foggy Forest
Trail on Sky Mountain, Gimpo-si, Gyeonggi-do, South Korea
Han River Aglow
View from the Han River Bridge, Gimpo-si, Gyeonggi-do, South Korea
Purple Balls
Lakeside Park, Gimpo-si, Gyeonggi-do, South Korea