Between fulfilling volunteer responsibilities and attending various events at the National Bible Bee in Nashville, Tennessee, I was able to snap a few shots of the friendly, spirited, and emotionally thrilling mood of the occasion!
In both shooting and editing, I was reminded over and over again of how important depth of field is to a pleasing composition. If you do not know already, there are three factors that determines how "deep" your depth of field will be:
Aperture. The wider the aperture, the shallower the depth of field.
Focal length. The further you zoom in, the more blurred the background will be.
Distance. The closer you are to the subject, the less detail in the background you will see.
So, having said thus, here are a few of my favorite images from the Bible Bee. Notice the depth of field in every single one of them.
My absolute favorite from the week!
I love the combination of DOF and subject movement which draws the eye to the joyous countenance of the father's face.
Blurred just enough to produce a cool effect while still giving enough detail to know what story the picture is telling.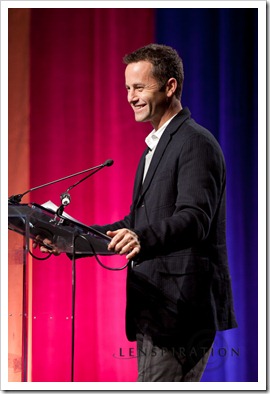 Not much you can do with depth of field when the speaker is so far away, even from the front rows of the auditorium. But still, when Kirk Cameron is speaking live, an ok picture is more valuable than none at all.
Just a very cute shot. 🙂
GraceAnn Westfahl, 2nd place winner of the Senior division.
Keli Erickson, 1st place winner of the Senior division!