After wearing myself out at Banff yesterday, I felt like sleeping in this morning. In fact, I set no alarm and planned no morning photo shoot. Why get up early in a spot that's simply a rural, home setting? However, my plans quickly changed when my brother shook me awake exclaiming how incredible the sunrise would be. The sunrise was indeed beautiful, but that wasn't what made rising early worth it. One of the most brilliant rainbows I'd ever seen arched across the entire sky shortly after sunrise, adding every color in the rainbow to an already colorful hayfield.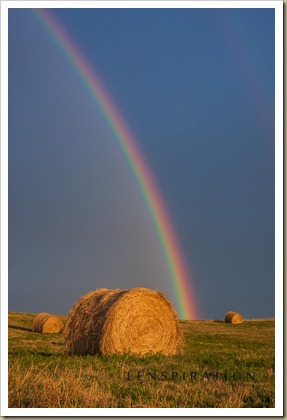 About the picture: It was a mistake to run out into the field with only my camera and without my camera bag; thankfully there was plenty of space on the CF card and enough juice in the batteries for a half hour shoot. And it was only the Lord's doing that I had left the polarizer filter on the lens after the previous shoot; polarizers are excellent for setting off rainbows from the sky.
It was quite the challenge to find a composition that included the maximum amount of rainbow possible, a clear horizon and an arrangement of hay bails that were evenly spaced apart. Thankfully, and with credit to the Lord again, the rainbow stayed at full intensity for a good 15 minutes which allowed sufficient time to narrow in on a few good compositions.