Stick Out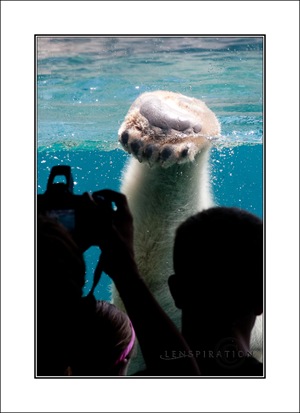 Did you have a hard time guessing what this picture was? Most of the time, unusual things look unusual because the circumstances that lie behind them are not known or understood.
The other day, Daniel, Robert and I visited the Brookfield Zoo, just a hop, skip and a jump from where we work here in Chicago. In the Great Bear Wilderness, we stopped to watch the polar bears. They were surprisingly active that day, walking around and diving energetically in the water. Yes, diving; and close to the glass too. That's why this fellows leg is sticking up so comically in the air. 
It's amazing how closely this relates to holding a Christian standard of living. No, I don't mean the handstand part. 🙂 I'm talking about observers responding to circumstances that they do not fully understood. Sometimes, living godly in Christ will draw a lot of attention and may even appear comical in today's culture. But don't be discouraged. Even though others might "think it strange that ye run not with them to the same excess of riot, speaking evil of you," we know that true fulfillment comes in following Christ's example: "foreasmuch then as Christ hath suffered for us in the flesh, arm yourselves likewise with the same mind: for he that hath suffered in the flesh hath ceased from sin" (I Peter 4:1, 4).