Thanks for letting me critique your pictures, Barbara. I've never been to Montana before, so it's neat to see your beautiful state from your perspective.
No matter how brilliant a sunset may be, they indefinitely end up looking "flat" without a subject in the foreground. That's why I love the old windmill. It adds depth. Next sunset, try setting it off to one side. Dead center is one place in a composition that isn't living. 🙂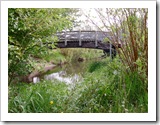 This picture reminds me times when I have been hot, sticky, and simply uncomfortable. Perhaps it would be a fine time to take a swim, but the overgrown banks and brown water don't look that inviting. If possible, play in this location later in the day to eliminate the colorless, harsh, and uninviting light of midday.
This is a very interesting picture. It has potential for having a lot of meaning behind it. Does Psalm 72 talk about roses, flowers, thorns, crimson, sacrifice, or genuine love? Technically speaking, I love the soft light coming in from the side, which looks as though it is from a  window. Side lighting is very appealing.
 
How tranquil. Cool, really; I mean, cool in the proper sense of the word. It's neat how pictures can speak specific words. And I'd like to hear the story behind this picture too. If it is your own church, you might get some neat pictures if you ask to turn the lights on. Then the picture would speak of coziness.
Flowers are all around us, but to get good pictures of them is not easy, especially red ones. (That's another story!) But the first thing I'd say about this picture is that it would have been better to wait for a cloudy day or shoot it later or earlier in the day when it's in the shade. With even lighting, the color will pop!