In a recent post, The Work of Art, I talked about how difficult it is to create beautiful landscape images. More often than not, beauty is ascertained by much more than just our sense of sight, so it is often discouraging when we return to our homes, look over our pictures, and consistently see that they nowhere compare to what we remember experiencing. So how do reproduce the emotional impact of an experience in your actual pictures?
To be completely honest, it is impossible. But you can increase the emotional impact of an image by learning, practicing, and digesting the following three keys in capturing the perfect picture!
KEY #1. Good composition
Even if you don't have that fantastic of a subject, you can make it look fantastic by the way you compose it. Learning the techniques of good composition, changing your perspective on how you look at things, and learning all the details of what cameras can do for you and what you can make cameras do, is what every photographer starts with. You study. You shoot. You critique. You shoot more. You research. You learn from others. And you shoot some more! It's the learning curve of basic photography. It's what goes through your head every time you release the shutter. Good composition is basic; and yet it is so deep! Rule of thirds. Leading lines. Remove distractions. Fill the frame. Depth of field. Straight horizons. Tack-sharp focus. . . . Most photographers are not only familiar with these terms, but know the meanings of them by heart. Panning, zooming, long-exposures, bracketing. The list of creative ways to compose and shoot any given subject is endless!
This picture demonstrates good composition because
it was taken at a creative angle, applies the rule of thirds,
and uses depth of field.
KEY #2. Good subject
Regardless of your skill as a photographer, it sure does help when you have a nice thing to take a picture of. This is why nature photographers like to get around; to travel. They spend a lot of time planning, researching, and pouring over maps, roads and trails. They're looking for something new and different to take pictures of. And in an attempt to find something unique, I find it ironic that we gravitate toward things that are iconic: the Grand Canyon, Mt. Rushmore, Moraine Lake. But regardless of where it might be, a good subject is always a subject that has emotional meaning. A lighthouse depicts hope. A mountain depicts majesty. A loon sitting out on a still lake, silhouetted against sun-illuminated mist, depicts rest. And it also brings back memories. A lighthouse might bring to mind good memories of being at the beach, or bad memories of being at sea in a storm. A good subject has a distinct shape; a purpose. It has a contrast of it's own. It can be colorful. It can be contemplative. A good subject carries something with it that a photographer with his camera can never create, no matter how well he knows his trade. So when a good subject is combined with good composition, it begins to produce that emotional impact that you are looking for.
A cruise ship demonstrates a good subject because
it is an uncommon subject and carries with it all sorts of
emotions centered around vacation and pleasure.
KEY #3. Good lighting
This is the trickiest of the three to grasp because it conflicts the most with our daily routine and style of life. We're always sleeping or preparing for the day when the sun rises. And we're always sitting down to a good dinner, tired out after a full day of exploring, when the sun sets. But it is at exactly these two times of day that we are able to take advantage of the last, and perhaps the most important, of the three spokes of the Perfect Triangle. Instead of hiking somewhere in the morning, and hiking back in the afternoon, one has to hike out in the afternoon and hike back the next morning (unless he wants to hike back at night). One can not go with the flow or live in the lap of convenience. And yet, I am finding out that it's even more than this. Where exactly will the sun be when it rises? On what will it be shining on? At what phase is the moon? Where will it be in the sky? Do I take advantage of the golden hour, cloud light, or alpenglow?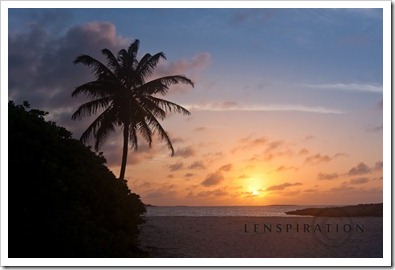 The application of all three keys should create enough emotional impact
in an image to cause the viewer to think of nothing else but "Wow."
If you are able to remember good composition techniques as you shoot a good subject at the time of day when there is good lighting, than you are well on your way to coming home with a picture that stimulates the emotional impact you first set out to find!