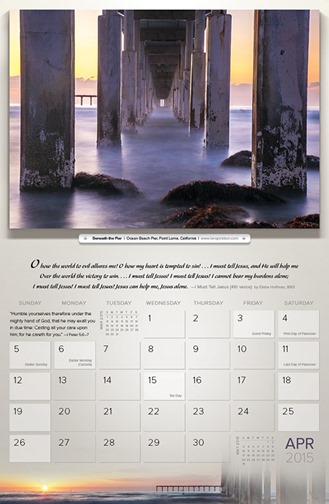 April 2015 – Beneath the Pier
Ocean Beach Pier, Point Loma, California
The hymn for this month is "I Must Tell Jesus". Though written over 100 years ago, it's message is still so applicable today: "O how the world to evil allures me! O how my heart is tempted to sin! I must tell Jesus, and He will help me, over the world the victory to win. I must tell Jesus! I must tell Jesus! I cannot bear my burdens alone."
I've been reading the book of Judges recently, and when I came to the story of Samson I was impressed with these two interesting facts:
When the angel appeared to Samson's mother to tell her that she would miraculously have a son, she immediately went and told her husband. I don't mean to extrapolate anything that isn't intended in this passage, but I get the sense that she had a trusting relationship with her husband: a safe relationship where, even for something as "rediculous" as the appearance of an angel claiming the impossible, she was not not afraid to tell him about it.
Even though Samson communicated well with his parents early on (see Judges 14:1-4), he evidently didn't continue to keep a close relationship with them as evidenced by the fact that he "told not his father or his mother what he had done" after taking on a lion single-handedly. Again, I don't want to read between the lines, but it seems as though Samson did not foster a lifestyle of openness and accountability. And what do we know Samson for? Yes, his strength for sure, but also his repeated moral failures.
Staying accountable with Christ, confiding in him as with a best friend, not being afraid to talk to him about what's going on in my life, seeking his face and his Words in times of temptation—in other words, telling Jesus—is such an incredibly important factor in living a morally victorious and virtuous life as a Christian. What depth now is fathomed in the words of Titus: "[Christ] gave himself for us, that he might redeem us from all iniquity, and purify onto himself a set-apart people, zealous of good works."! Living a sanctified life is something Jesus is very interested in, and I'm sure he'd have a lot of good advice for those of us who are willing to simply talk to him about it.
So, how does this relate to the picture for April? Honestly nothing more than the fact that these were the type of things that were running through my head when I was deciding whether or not to use this picture in the calendar. Ocean Beach Pier was not exactly the most morally uplifting place in the world, and so I felt the picture had a personal connection with those lyrics for me. Wherever I am, whatever I am doing, this song is a great reminder to keep my eyes on Christ.
And there really isn't much more to share about the picture than that! I was in kind of a hurry so I didn't take too many pictures there. A friend I was visiting in San Diego had showed me a picture of the pier that intrigued us so we both agreed it looked like a fun place to go to shoot. We jumped in the car, arrived at the pier at just the perfect time, shot until it was too dark to shoot any more, and then left to grab some pizza for dinner. The number one thing I remember about this place, though, was the piles of smelly seaweed I had to wade through to get the vantage point I was looking for.
Needless to say, there weren't too many other people on that section of the beach except for a few dedicated surfers.
As you can see below, the shot I used for April required a bit more image processing than normal. But then again, the dynamic range of the human eye is much greater than that of the camera, so I felt it was still authentic enough to include in the calendar. You can buy one, two or just a few on the Staddonfamily Store for $10 each; or you can get free shipping plus quantity discounts as low as $5 each on the Lenspiration Store.
Thanks for promoting a Christ-centered and Creationist worldview in the realm of photography! And here are the post-processing before and after shots:
BEFORE
AFTER