I will be the first to tell you that I'm about as far away as one can be from claiming an entitlement of expertise in the genre of travel photography. Yes, I take pictures while I travel, but that doesn't make one a travel photographer. It is very seldom that my intention is to document the privileges or plights of a particular culture. However, because I do enjoy capturing the unique variations that particular cultures do offer, I will attempt to document here what I have learned from my few and feeble attempts at travel photography over the years by looking at a recent afternoon venture in downtown Tijuana, Mexico.
1. Find simplicity amidst the clutter
I believe this is the master key to travel photography. Just about anywhere you find people you will find stuff. Stuff is a necessary part of life, but it sure junks up pictures quickly. Isolate what catches your eye and get rid of the rest!  This ornate decoration was on the outside of a door that led out onto a busy street lined with countless vendors and crowds of people.
2. Use a zoom lens
To help cut out the clutter, I recommend using a zoom lens while walking the streets. It's amazing what a zoom lens will see that an unaided eye will not..
3. Capture cultural uniqueness
Take advantage of being in a foreign country! I'm often surprised at how often I miss unique opportunities either because they are so common in that particular area or because I'm simply engrossed with what I should be taking pictures of.
4. It's ok to shoot icons
Just shoot them differently than everyone else does! Often, I avoid icons and famous places simply because there are millions of other pictures of the same place taken at the same time of day from the exact same angle. However, when I do not take pictures of icons, I usually regret it. It's ok if everyone else has a picture of it; just do what you can to make yours stand out from the rest. In the example below of a well known cathedral in Tijuana, I would doubt if there are very many other pictures taken without pop-up flash that are sharp and that accent the floor patterns as well as this example does. It was a pretty dark place.
5. Make it Happen
Most of the time while I'm traveling overseas, I'm not there for the photography. It takes effort to plan ventures out of the office and away from business to immerse yourself in photo-rich environments. Make the most of where you are!
6. Capture Color
Not every place you go will be colorful, so keep an eye out for it. The above building was one of few colorful buildings I saw on that day's venture, so I spent extra time around the entrance taking close-ups of the colorful patterns and textures.
7. Make sure it's safe
Two are better than one! I can't say enough how helpful it has been to have a guide or fellow photographer along with me during urban ventures. It's always reassuring to have someone there to watch your back, especially when you are focused on taking pictures, and to show you where the most interesting places are, especially if you have never been there before. In the image below, the guy on the right was my "bodyguard."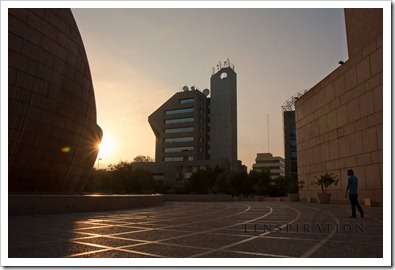 8. Be Confident
Though this tip is at the end, I think it is one of the most needed and un-talked-about aspects of travel photography. Planning a venture, arranging travel details, making appointments, keeping track of time, asking people to look at the camera, taking your time to get a good shot even when people are waiting for you, overcoming your fear of "what others are thinking" when you point your massive Canon straight at them, and doing whatever is necessary to get a good angle while keeping yourself from getting run over or tripping over a curb or misplacing your lens cap—and keeping a positive attitude the whole time!—takes more confidence than I know how to express in words. It's had because people don't understand why a photographer does what he does to get a good picture and there is never time to explain. In the image below, VW's are so common in Mexico that I'm sure the owner of this one was wondering why in the world an American would sprawl himself out on a dusty sidewalk for the seemingly purposeless purpose of taking a picture of a dirty car. I suppose we photographers have just got to endure the temporal physical and emotional discomfort for the joy of a portfolio to display and use in the long run.
For more pictures of my venture to downtown Tijuana, you can view this album.