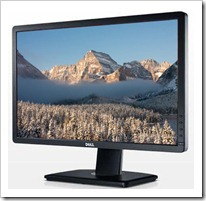 My family helped me to buy a new 23" widescreen monitor for Christmas, just the tool I needed to begin accurately editing pictures for printing!
Have you ever ordered prints that looked fabulous on your screen but looked sickeningly yellow, or deathly blue, or awfully dark when the actual prints arrived in the mail? I'm a very particular person when it comes to printed material, so this happened to me all the time in one degree or another. I simply could never get my laptop screen to be color calibrated correctly, so ordering prints was always a drag. But not any more! With a high-resolution screen that allows for accurate calibration and fine-tuned color and brightness adjustments, printing pictures is fast becoming part of my normal picture-editing process.
So, now that I can actually print with relative confidence, I've been experimenting with printing on canvas. Having asked myself "Should I print on canvas?" in the past, I thought it would be neat to share my observations on what little I now know about canvas:
Canvas is awesome if you want it big! 20×24, 24×36—you name it—if you are viewing it from a distance, it's an excellent way to display a masterpiece of art. Up close, the canvas texture doesn't reveal the same detail of matt or glossy papers, but canvas appears crisp from a distance of a foot or two.
Canvas has no glare. It's a smooth material texture so there's nothing for light to reflect off of. There's no need to frame it or put it behind glass which always causes glare.
Canvas is super easy to hang! All you have to do is drive a nail in the wall and hang it up.
Canvas is very stylish and simple. It is complemented perfectly by blank, solid-color walls that are normally drab or empty.
Canvas is tough. It's not fragile, breakable or flimsy. No need to worry about someone accidently bumping it off the wall or touching the print with their fingers. It would be hard to scuff, and you won't have to wash finger prints off glass any more.
Canvas prints are expensive. Though a regular print of the same size may cost less than half as much, canvas offers very few hidden expenses such as framing and matting because they are not needed.
I have been pleased with the canvas prints that I've seen so far and just ordered this 20×30 canvas of a chickadee for a customer in Texas. If you would also like this picture, or any picture on Lenspiration.com for that matter, printed on canvas, please contact me. Special prices for the month of January are below:
16×20 Gallery Wrap Canvas: $50.00 + Free Shipping
20×24 Gallery Wrap Canvas: $75.00 + Free Shipping
20×30 Gallery Wrap Canvas: $125.00 + Free Shipping
24×36 Gallery Wrap Canvas: $150.00 + Shipping
These prices aren't available when ordering the normal way through Lenspiration.com, so that's why you have to contact me. Make sure to order by the end of January!