Have you ever exaggerated the amazing story behind a shot? What about exaggerating the Saturation slider?
I'm reading an excellent book written way back in 1890 called "Ethics; An Early American Handbook". A section on "Exaggeration" in the chapter titled "Truth" really made me smile sheepishly and think back to times I have used exaggeration in both verbal explanation and image editing. Principles of truth apply to all occupations over all time, even to occupations that weren't developed when the principle was conceived.
"Exaggeration. This is lying by representing anything greater than it really is; . . . [Young people] exaggerate the difficulties in doing anything they do not want to do; and, in describing what they have seen or done, they often make it much greater or more wonderful than it really was. Travellers often exaggerate the dangers they have passed through, or the marvelousness of the sights which they have seen. There are very few persons, whether old or young, whose accounts of what they see and hear can be fully depended upon, as strictly accurate and just. Their feelings, their interests, and even the excitement of conversation or of argument, are often sufficient to lead them to overstate facts, so that their statements cannot be depended upon. Yet, by all these exaggerations, truth is sacrificed."
If you were writing a book on exaggeration from the perspective of a modern-day photographer, what examples could you give? The part about travel poked at me. How many miles did I actually hike on such and such a day? Was the sunset over the ocean really the most spectacular one I'd ever seen? How important is truth to me? Can others rely on me to be 100% honest 100% of the time? Would I rather go down in history with reputation like Marco Polo's or like James Cook's?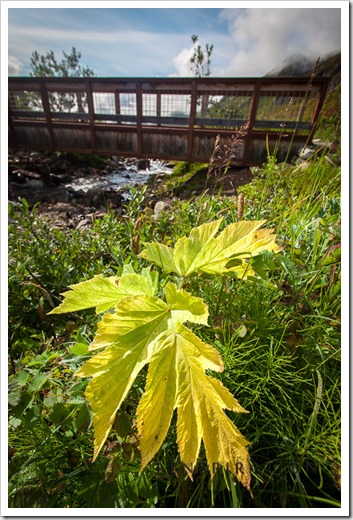 Some composition techniques, such as Forced Perspective, rely on exaggeration as the for it's uniqueness and effectiveness.
On the picture editing side of things, you, as an artist, have the freedom to process your images in whatever way you wish. Regardless of how realistic or unrealistic a picture is processed, you're not "lying" unless a previous truth has already been set in place. Like, if I "set in place" and market to the world on the premise that my landscape pictures are "true to nature", then I had better be very careful that I only edit pictures to be true to how I remember them appearing in nature. No moral fault lies in "editing"; the fault lies in the exaggeration. Calling something a wilderness landscape after you've edited out the telephone wires . . . or intensifying the color in the sunrise to make sure your pictures line up with your story . . . only you as the photographer know when you're pushing something too far. And don't forget to beware of exaggeration's blood relative, prevarication, especially when someone asks you how much you used Photoshop on a picture.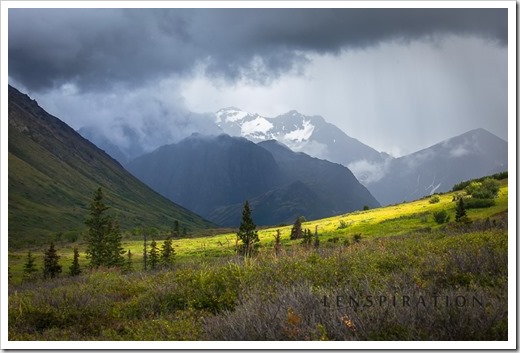 It is very tempting for me to talk of this shot as being taken in wilderness backcountry . . . and this is partially true because you can truly see far into true wilderness backcountry. But where I was standing was only a mile or so up the valley from a new, expanding, Alaskan-style housing development.
That little book has challenged me to stay true to my word, think more accurately when I start to move that Saturation slider, and strive to look for intrinsic beauty in nature instead of trusting my post processing skills to make pictures beautiful for me.
Let your communication be, Yea, yea; Nay, nay: for whatever is more than these comes of evil. (Matthew 5:37)