The via ferrata trail guide surveyed the full frame DSLR I had clipped on to my photography waist strap as the group gathered for the opening safety briefing.
"No, I've never seen anyone bring a camera that big on the via before."
For the umpteenth time, I began to second guess my decision to bring it along. Even if they allowed me to bring it, would it get in the way? Would it slow the group down? Why would I want to be the odd one out….again….(no one else had a camera that big!)? Was it worth lugging around all that extra dead weight?
But I had already weighed all these factors beforehand. Yes, if the guide was ok with it, I would bring the DSLR. A via ferrata hike was too unique to just walk away from with only phone photos! I'm a photographer. I want to add to my portfolio. I want to use my photos for more than just making memories. I wanted the quality that my DSLR would give me.
So, I swallowed my second thoughts and asked the guide if I could bring it.
And he didn't have a problem with it at all!
So I brought it. And I'm glad I did!
I don't bring the "big camera" everywhere I go, but when I do decide to bring it along, here are 6 things I've learned that help me keep it from getting in the way, reduce the awkwardness of lugging it around, and still make the most of it while spending time with others on a day hike:
1. Bring only one lens
I've found that when I'm doing day hikes with others and there's not time for "fine art", I almost never switch lenses. Most of the time, I just take my best walk-around lens (the one that offers the greatest range in focal length) and stick with it the whole time. If I run across a scene that I wish I had my 17-40mm, well, I just shoot it the best I can with my 24-105mm. Not carrying around extra lenses reduces weight and decreases time wasted in decision-making and lens-switching.
2. Keep the camera on all the time
I have missed so many good, candid moments because I didn't have time to switch the camera "On" before framing the shot. I usually switch it to "Off" to save battery power, but the fact of the matter is, my camera battery will probably last much longer than the time I am out on the day hike, and if it doesn't, it's not hard to throw an extra battery or two into a pocket somewhere. Plus, camera's these days usually go to sleep after a few seconds of not being used anyway, so actually switching the camera off doesn't save much batter power.
3. Keep the lens cap off all the time
Again, putting the lens cap on after every shot is a great way to prepare for missing a good, candid moment. Of course, the lens cap is there to protect the lens so definitely use it when needed (like when you put your camera away into your camera bag). But better ways to protect your lens on the trail is to use a lens hood or UV filter. A DSLR is much faster on the draw than a phone is….so maximize on that strength.
4. Verify it's fine with everyone that you are taking pictures
The reason I was on the via ferrata that day was to spend time with my cousin, Chris. Before I made the decision to bring the DSLR, I asked Chris if he would be fine with me taking pictures of him during the hike. As expected, he was fine with it, but it never hurts to make sure ahead of time, even among the people we already know.
Also, during safety briefing, when the guide asked if we had any questions, I raised my hand and let everyone in our small group of climbers know who I was and why I was bringing my camera along. By initiating conversation about it, hopefully it cleared up any questions they may have had on their minds and gave them freedom to come and talk with me about any concerns they may have had about it too. This really helped remove the awkwardness of using my DSLR that day on the via.
5. Purposely incorporate people in your photos
This is so much fun! Asking someone to smile at the camera makes for a good photo for memories sake, but to ask someone to climb such and such a rock, or stand in such and such a place, or gaze off into the distance, or point, or run, or jump, or examine….or do anything!….makes good photos for both memories and art. If your purpose is to spend time together, include those people in the things you love to do. They learn more about you, and you learn more about them.
6. Previsualize
You don't have to actually snap a photo to know whether or not it will be a good shot. Previsualize. Determine in your head the pros and cons of a certain shot before taking the time to work the scene or snap the photo. Only take pictures of what is really worth taking pictures of.
On the via ferrata trail that day, I would scramble ahead and make sure my photography wasn't slowing others down. But I found myself using up my limited time on broad, scenic shots that I could basically create anywhere. I had to change the way I looked at my surroundings. I began to focus on the elements that were unique to this opportunity, previsualize what photos might look like, and then only stop for the shots that I thought were really worth it.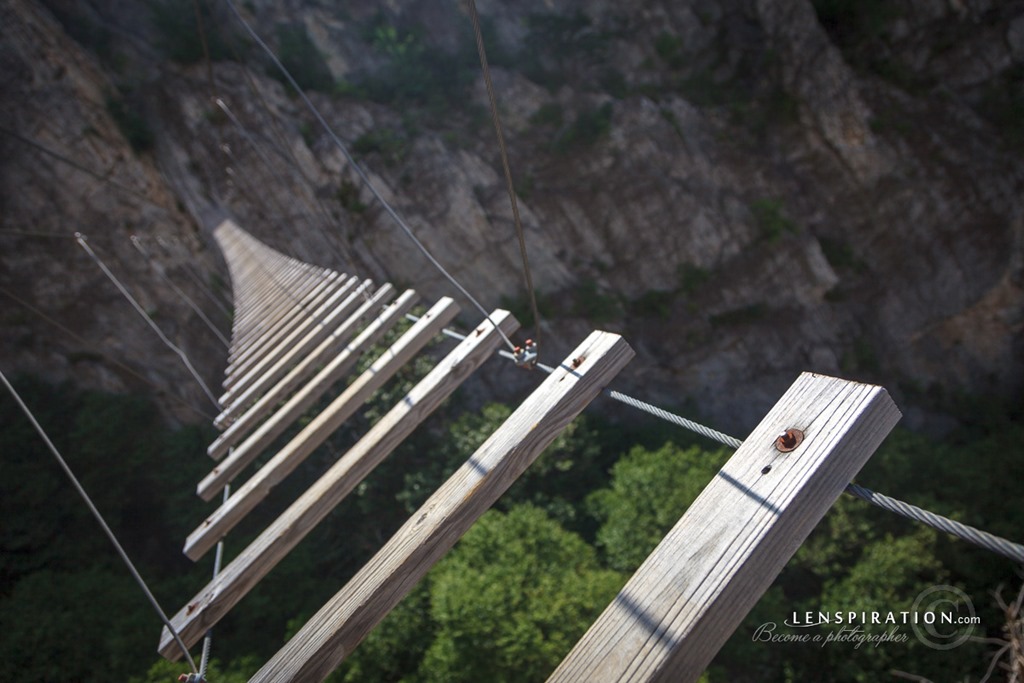 7. Establish your camera carrying system
When I first bought my camera, I would wear it around my neck on walks and hikes. It was fine for an hour or so, but eventually it would make my neck hurt.
So, I bought a shoulder bag to store the camera in while I was hiking and would only pull the camera out when I needed it. It worked well, but eventually I got annoyed with the feeling like it was never "attached to me", and it would swing around and I would have to use at least one hand on it if I was doing anything other than just walking. More than once, I had taken it off and accidently left it behind.
So, I started using a backpack. It felt much more "attached", but I really disliked having to take the backpack on and off all the time. I didn't use this method for long.
So, I started going back to using a strap again, only this time wearing the strap over my shoulder and across my chest. This allowed both hands to be free and I liked it better than a bag because I had immediate access to the camera. Problem was, there was still that "unattached" feeling, and any time I wanted to do something other than walk, I would have to use one hand to hold the camera away randomly from swinging around.
And that's when I stumbled on the camera carrying system I use now. I use this cheap photographers waist strap, attach the camera to it (with the strap removed) using this expensive Peak Design's CapturePRO Clip, and then use reasonably priced, various sized Ape Cases like this one to store other lenses and accessories I might want for the day hike. I have found that this system gives my hands 100% freedom, I can get into any position I want without the camera swinging around, and since the weight is on the hips, it's comfortable for endless miles of hiking and any number of lenses. The only real problem I've discovered is that it leaves the camera exposed. It doesn't work too well when it's raining, and I have to be careful when bushwhacking or climbing around on rocks or trees.
But the via ferrata hike has been the ultimate test so far, and it passed with flying colors.
So, I'm curious….what camera carrying system do you use? What are it's pros and cons? Please comment below!
And here are a few more factors that influenced my decision to invest in a the CapturePRO Clip: